HiCON Mini motion controller works with Mach4 software and Digital Drives (stepper or servo motors) using Ethernet communications. HiCON Mini provides excellent integration with Mach4 CNC software, proven by hundreds of end-users since 2011. The controller generates hardware synthesized motion pulse train using state-of-the-art FPGA devices that offers extremely smooth motion profies compared to the low cost controllers in the market. HiCON Mini is packed with a comprehensive set of features for your CNC application and provides an all-in-one solution of controller that greatly simplifies system integration and maintainence.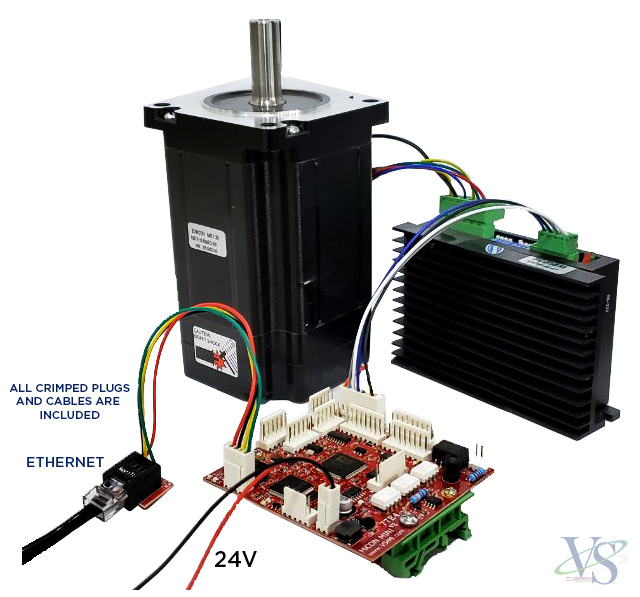 We have developed plugins for Mach4 software, working closely with Mach Software development team. Our Mach4 plugins are the top rated and most comprehensive plugins available.
The HiCON Mini controller can be used in a variety of applications, e.g.,
CNC Routers
PC Based or Standalone Motion and I/O Controller
Storage and Retrieval Systems
Milling / Lathe CNC Machines
CNC Plasma Machines
And many other apps....
Also check out the new ARCPRO Plasma Package for torch height control functionality with this controller.
VITAL offers the Best Price
We will match the prices of our Hicon Mini Motion Controllers and breakout boards with similar devices sold by competitors. To get the lowest price, you simply need to show the price list published recently from a recognized manufacturer. No minimum quantity is required for price match guarantee.
Product Highlights
Controller Features
4 Step and Direction Channels. Up to 2MHz Step Frequencies
6 Mhz Max Encoder frequency. Encoder resolution multiplied by 4 thru Hardware.
Optional 4 Quadrature Encoder Inputs
Optional 1 isolated analog input for Plasma applications, range 0-10 volts, 10-bit resolution
6 digital NPN inputs (5 to 24v)
4 digital NPN outputs (5 to 24v)
Ethernet 100Mb connectivity using TCP/IP interface.
Hardware configurable limit and estop inputs for ultra-fast system disarm
Modes of Motion: Point-to-Point, Linear and Circular interpolation, Jogging, Electronic Gearing, Feedrate Override
Optional software Libraries available for custom PC based and Standalone applications
Hardware and firmware customization available
CNC Features
Probing.
Lathe Threading.
Rigid Tapping
Backlash compensation.
Manual CNC Mode (requires some scripting on Mach side)
Homing Using Home Sensor and/or Index Pulse.
Rotary Axis Homing with Index pulse.
Use One Home Sensor Input for all axis, or separate Home Sensors for each axis.
Use Limit switches as homing sensors.
Feedrate Override above 100%.
Instant FeedHold
Slave Axis Support.
PID Tuning Graph.
Tool Changer operation with Mach4 macros
High Speed 3D machining support.
This setup provides a great solution for applications that require accuracy and reliability. The closed loop feature accounts for any missing steps during transmission, and will automatically apply the necessary position correction at the start of the next move. This prevents following errors from accumulating. In addition, the DROs on Mach4 will show the actual machine position instead of just a step counter. Closed loop option also allows you to use the mill in manual mode where you manipulate the axis manually while seeing the actual positions in the DROs.