Mach4 CNC Controller
Mach4 is the latest PC-based software solutions for CNC applications. When paired with the DSPMC controller, creates a state of the art CNC solution for machine-shop and industrial application.
The DSPMC controller supports Mach4 Software via the plugin provided on this page. For the official production release, please refer to the "DSPMC Support Files" section below.
Mach Software and DSPMC setup:
Copy the HiCON plugin for Mach4 to the plugins folder in the Mach installation directory ("C:\Mach4\plugins").
Perform all necessary configurations via the user friendly config screens.
For more information, consult the Mach4 Integration manual available for download below.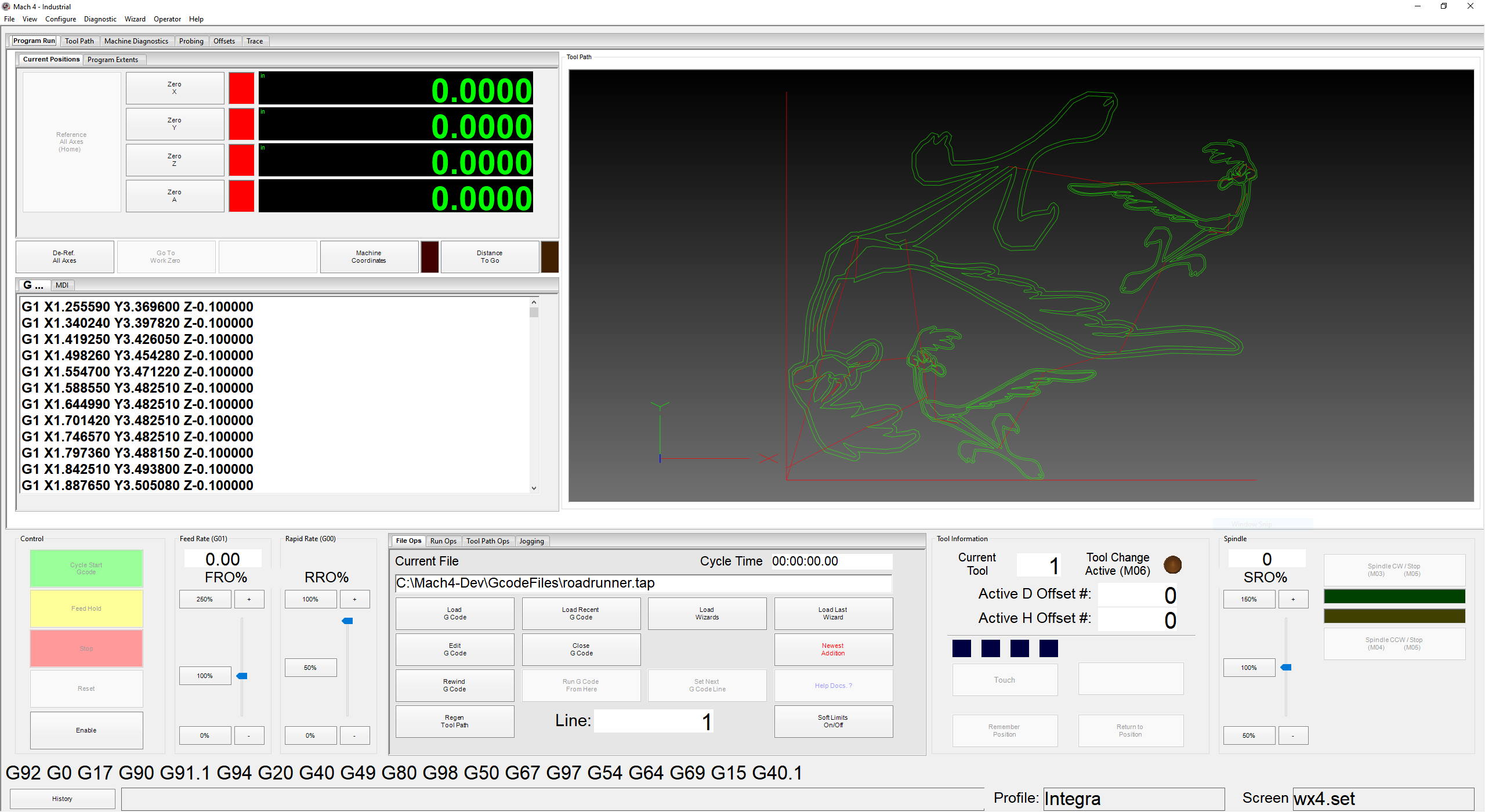 ---
Optional Components for DSPMC System
Advanced and production applications can also benefit from these add-ons:
DSPMC-MACRO[1]: This software feature allows the user to write custom programs (In C language)which can be downloaded to the controller for fast execution. Advantages of DSPMC-Macro Include:
Real-time program execution
Ultra-fast I/O manipulation
Extends Mach4 Functionality
Standalone Operation (No PC Control)
DSPMC-SNT[1]: This software feature is a specialized tool for EDM Machines. It allows the DSPMC to read an analog input at an ultra-fast scan rate and activate a digital output at the moment the voltage reading goes above or below a configured threshold. This feature is available only on the DSPMC 7763M version as analog inputs are required.
7737 Board: The pn7737 Differential Step/Direction and Encoder Board allows access to the Step/Direction and more Encoder channels and allows a simple plug-and-play setup (with any standard RJ45/Ethernet cable) when used in tandem with a Drive Interface Board (EPx-DIB) for Maxsine AC Servo Drives.
7535 Board: The I/O Termination board (7535P or 7535N) provides additional optically isolated digital I/O. Each board has 16 input terminals and 8 output terminals. All I/O terminals are clearly marked for quick and easy installation.
7729 Board: The pn7729 EtherCAT Adapter Board is an extension to the DSPMC that is designed as a solution for EtherCAT capabilities with Mach4. EtherCAT greatly simplifies wiring Servo Drives to the motion controller while maintaining command and feedback signal integrity.
[1] - These items may be purchased any time before or after shipping as they are software features