The YASKAWA Sigma-7 Servo Drive series offers standard rotary motors as well as linear and rotary direct drives and linear sliders. This broad variety of drive systems covers all market demands with regard to compact size, high dynamics, high efficiency, low maintenance and outstanding reliability.
Sigma-7 AC Servo Drives
Wide power range
Energy savings and higher productivity
Higher performance
Very low heat generation
High Accuracy System Performance
Outstanding Reliability
Advanced Safety functions SS1, SS2, SLS
Sigma-7 AC Servo Motors
24-bit high-resolution encoder installed
High efficiency, low heat generation
Downsizing by up to 20%
Low inertia SGM7A from 50 W to 7 kW
Medium inertia SGM7J from 50 W to 750 W
Medium inertia SGM7G from 300 W to 15 kW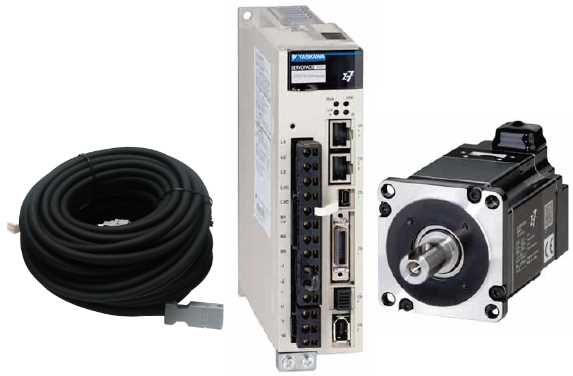 This 750W set includes the Yaskawa SERVOPACK, Motor, and 5m Motor Cables.